Hey everyone! LuAnn here with some mid-week Hybrid fun! So, the other day I was surfing the net and came across some cute little "lollipop" baby shower favors. They were tealight candles glued to tongue depressors that were wrapped in plastic and tied off with a bow. They were simple and cute but more importantly, they got the creative wheels turning in my head.
Here's what I came up with: Hybrid Flower Favors
These were quick and easy to make and would be cute for a baby shower or wedding favor. I can also see a bunch of these in a flower pot for a gift for your favorite teacher or Sunday school teacher too.
For my flower, I used one of Sara's Foamie Flowers. I clipped the pink paper from Sara's Be Amused kit to the flower. I resized my flower to about 4 inches in size. I decided to add some extra color to the center to my flower - color that would show beyond the edges of the white tealight I am using. See my photo above. I then printed the flower on cardstock and cut it out. (A chipboard flower or an artificial flower is another easy option for this)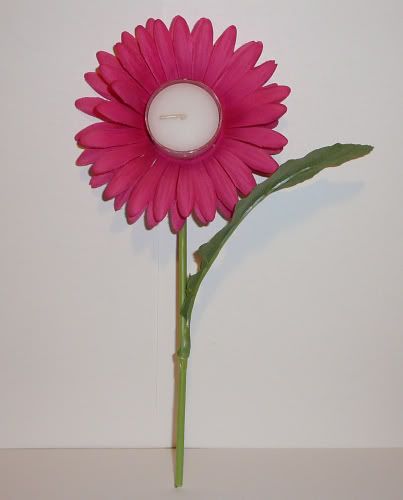 Position your flower on the tongue depressor and glue in place. I used my Xyron adhesive runner for this. I used a glue dot to hold the tealight in the clear holder and also one to adhere the tealight to the middle of the flower. For the artificial flower, I used scrapbook glue to glue the candle to the flower and then used glue dots to adhere the flower to the stem.
Finish your flower favor with a piece of white tulle or clear cellophane and ribbon. Add a leaf if desired - either a digital one or an artificial one.
I hope my little flower favor inspires you. If it does, I'd love to see what you come up with!